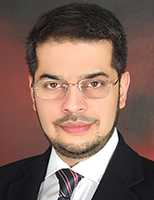 Mr. S. Tanweer Ashraf
Consultant Knee Surgeon
MBBS, MS Orth, MRCS (Ed), FRCS (Eng).
MSc Ortho Engineering (Cardiff), FRCS (Trauma & Ortho)
NHS hospital
The Royal Orthopaedic Hospital and
Queen Elizabeth Hospital, Birmingham
Clinical Interest
Knee Arthroscopy, Ligament reconstruction, Cartilage Transplant, Patella stabilisation, Partial (Unicompartment) Knee replacement,  Patello femoral replacement, Computer navigated knee replacement, Revision Knee Replacement, Osteotomy and Sports injury
About Mr. Ashraf
Mr. S.  Tanweer Ashraf is a Consultant Knee Surgeon specialising in cartilage and ligament surgery of the knee as well as surgeries for arthritis like partial knee replacement, minimal invasive surgery and computer navigated knee replacement. For the last 10 years he has been a substantive NHS consultant at Royal Orthopaedics Hospital and Queen Elizabeth Hospital in Birmingham.
After qualified in 1992, he completed his orthopaedic Specialist Registrartraining  in Birmingham and went for a super specialist training and fellowship in knee surgery at the Avon Orthopaedic Centre, Bristol. This Centre is renowned for partial knee replacement surgery; pioneering work on problems related to the patella (kneecap) and for cartilage and ligament reconstruction surgery.
Mr Ashraf worked at the Major Trauma Unit, Queen's Medical Centre, Nottingham as a Senior Trauma Fellow in the unit dealing with injuries to the knee as well as other types of sports injuries.
Mr Ashraf has been a visiting Fellow at different centres in  USA,France, and Germany. These centerspecialise in cartilage and ligament knee reconstruction surgery. Mr Ashraf follows the Lyon (France) school philosophy for treating problems with knee cap.
Mr Ashraf has several research works to his name most of which relates to partial knee replacement and pioneering work in patella problems and injuries to the knee. Among the several published papers is the widely quoted experience of replacing partly the outer part of the knee (lateral unicompartment knee replacement).
He teaches medical students at the University of Birmingham and takes an active part in training and teaching orthopaedic registrars on the Birmingham Orthopaedic Training Programme. He chairs regional meetings held for discussing complex knee problems. He organises  International courses for knee surgeons focused on the treatment of knee cap problems.
Mr Ashraf works as a Consultant Knee Surgeon at the Royal Orthopaedic Hospital where he undertakes partial knee replacement , total knee replacement , revision knee replacement and Partial knee cap replacement. Pioneering surgery for stabilisation of the knee cap (patella), and complex cartilage transplant with cartilage grown in a lab and then implanted in the knee is also commonly undertaken by Mr Ashraf.
Mr Ashraf also works at the Major Trauma Unit at the Queen Elizabeth Hospital, Birmingham which is the home of the Royal Centre for Defence Medicine (RCDM). Here, along with general trauma and lower limb injuries, he treats cartilage and ligament injuries to soldiers and elite athletes.
Website: www.tanweerashraf.com